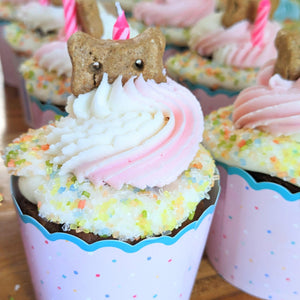 ***Available in store, for pick up and NYC same day delivery ONLY. 
If you need a cake/cupcake to be shipped, please pick a HARD FROSTING one.*

Delicious! A soft Peanut butter and Banana mini cake with both our signature soft yogurt frosting. With a candle in place ready to party.


Made with Love by District Dog


We keep them frozen at the shop, please thaw at room temperature 30 minutes before serving.


Made with Oat flour, Chickpea Flour, Peanuts, Bananas, fresh Eggs, vegetable shortening, canola oil, Tapioca flour, Yogurt powder, Buttermilk Powder, Baking Soda, sprinkles.