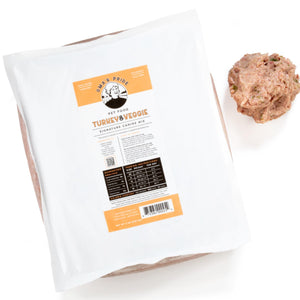 Excellent source of lean protein and amino acids.
Low in saturated fat and cholesterol.
Contains tryptophan, which strengthens the immune system.
Sourced (protein) & produced in the USA.
100% natural -- no preservatives, additives, or flavorings.
Suggested Use & Instructions:
For intermittent or supplemental feeding only.
We recommend feeding twice (2x) per day.
Feed according to your pet's age, weight, activity level, and dietary needs. 
Raw food should not be fed within 5 hours of feeding your pet dry kibble due to varying digestive times.
Ingredients: Turkey meat & bone, green beans, okra, yellow squash, turkey hearts, turkey gizzards, turkey liver.
Calorie Content (ME, Calculated): 1368 kcal/kg   39 kcal/oz
Additional Information: Product is 100% raw and should be treated as raw meat. Keep frozen until ready to use.