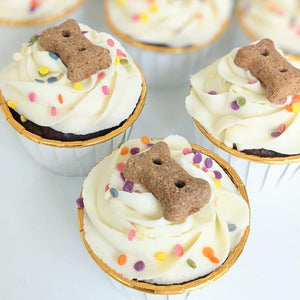 ***Available in store, for pick up and NYC same day delivery ONLY.
If you need a cake to be shipped, please pick a HARD FROSTING one.*

There's no better way to celebrate a special day than with a delicious cupcake for you pup.

Our moist wheat-free peanut butter and banana dog cupcakes topped with a decadent soft yogurt frosting pups can't wait to eat.

Made with Love by District Dog


We keep them frozen at the shop to preserve moisture, please thaw at room temperature 30min before eating.
Size is aprox 2.5" x 3" comes in packs of 2

Made with Oat flour, Chickpea Flour, Bananas, Peanuts, Eggs, vegetable shortening,oil, Tapioca flour, Yogurt powder, Buttermilk powder, vegetable coloring, baking soda and all natural sprinkles.
No wheat, No preservants, No sugar, No artificial colors.