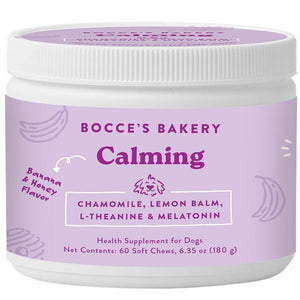 Let's help your pup manage everyday stress. A daily health supplement with natural, calming ingredients designed to help your pup keep their cool - because you're not the only one in need of a little relaxation and TLC.
60 Soft Chews, 6.35 oz.
Banana & Honey Flavor
With Chamomile, Lemon Balm, L-Theanine & Melatonin
Made in the USA with Imported and Domestic Ingredients
Ideal For...
Less Stress: Chamomile is the king of calm and composure — especially during stressful situations, from car rides, to vet visits, to fireworks and thunderstorms!

Sweet Dreams Support: Melatonin helps to regulate the sleep cycle, supporting rest and relaxation so your furry friend can catch those Zs.

Anxiety and Nervousness: L-theanine and lemon balm can be natural stress-soothers — for more wags and less whimpers.
Active Ingredients Per 2 Soft Chews (6 grams)
:
Organic Chamomile Powder………………………… 150 mg
Organic Lemon Balm Powder………………………… 100 mg
L-Theanine………………………… 60 mg
Melatonin………………………… 600 mcg
Inactive Ingredients
:
Banana Powder, Coconut Glycerin, Flaxseed,Honey, Mixed Tocopherols, Natural Banana Flavor, Oat Flour, Palm Oil, Powdered Cellulose, Rosemary Extract, Sorbic Acid (Natural Preservative), Sunflower Lecithin
Daily Feeding Directions
:
Up to 25 lbs - 1 Soft Chew
26-50 lbs - 2 Soft Chews
51-75 lbs - 3 Soft Chews
Over 75 lbs - 4 Soft Chews