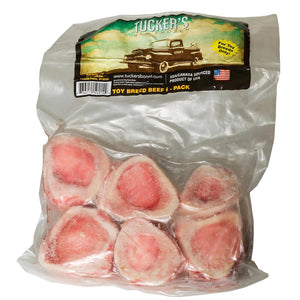 "This product is frozen and can not be shipped UPS/USPS. Pickup and local delivery only"



Tucker's Raw Frozen Beef Toy Breed Dog Bones 1 Inch, 6 Pack are made from beef cattle sourced in the USA and are processed and packaged under USDA standards. Raw bones may be added to your pet's daily diet as a treat or a snack, and are a great way to give your pet a source of natural chewing satisfaction.
The fresh meat on the outside of the bone and the marrow within is a natural source of protein, fat and minerals. Raw bones are also great at maintaining healthy teeth and gums.
1 Inch Bones Sized for Small Dogs - 6 Pack. Made in USA.
Ingredients:

Beef Meat, Fat and Bone.

Feeding Tips:
Recreational bones can be feed as a recreational treat up to two bones per week.


Always monitor your dog when feeding recreational bones for potential choking hazards.


Once completely cleaned, bones should be discarded within one to two days.


Recreational marrow bones are NOT to be completely consumed.


When in doubt, choose a larger size bone that your pet cannot attempt to swallow whole.


These products are intended for supplemental feeding only.
 We cannot ship frozen raw food via ups. * Pickup or local delivery only