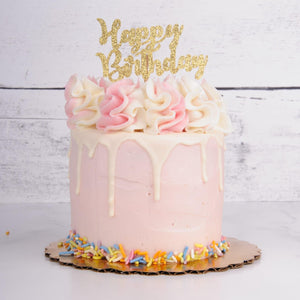 ***Available in store, for pick up and NYC same day delivery ONLY.
If you need a cake to be shipped (UPS/USPS), please pick a HARD FROSTING one.
Pleae do not choose UPS/USPS or we will have to cancel your order*

Celebrate your pups special day with this beautiful Stacked peanut butter and banana cake, decorated with a yogurt drip, yogurt soft frosting,all natural sprinkles and peanut butter cookie bones.

Cakes in stock on our website are available for same day pick up or local NYC delivery.

We keep them frozen at the shop to preserve the cake's moisture, please thaw at room temperature an hour before eating.

Size is aprox 4" in diameter
Includes Happy Birthday cake topper

Made with Oat flour, Chickpea Flour, Peanuts, Banana, eggs, Vegetable oil, Vegetable shortening, Tapioca flour, Yogurt Powder, Yogurt Chips, Buttermilk Powder, Carob, all natural sprinkles.

No artificials colorings, No sugar, No Wheat, No preservatives.